Catalogue Corner No.1 - Harrison Birtwistle: 'Gawain'
9th May 2022
Features
NMC Recordings
We're delighted to launch a new feature on our Discover page...Catalogue Corner! Here we will to take a look back into the extensive NMC catalogue and pick out a disc to shine new light on. Each month, you'll be able to buy the featured Catalogue Corner recording for a special discounted price so that you, our NMC community, can listen this release anew. To celebrate this first instalment, we're offering a further discount on all of the many Harrison Birtwistle releases in the NMC catalogue - enjoy!
We thought, given the recent passing of Harrison Birtwistle (1934-2022), that we would kick things off with one of Harry's releases. Given that he is our most released composer there were a lot to choose from. In the end, we decided to land on the Gramophone award winning Gawain (NMCD200).
Originally recorded at the Royal Opera House, Covent Garden in 1991, NMC re-released this disc on 19th May 2014. We licensed the astonishing live recording of the Royal Opera House premieres from the BBC, having successfully negotiated what at the time was a ground-breaking deal with the Musicians' Union. The recording of the ROH production won a Gramophone contemporary award in 1996.
Gawain is Birtwistle's Parsifal (Wagner), a philosophical quest with firm roots in music history and a solid sense of theatrical structure. Birtwistle's fascination with myth and ritual has influenced many of his works and this opera, its libretto by David Harsent, is based on the Arthurian legend of Sir Gawain and the Green Knight, with a plot featuring castles, eerie nocturnal apparitions, evil magical powers, amorous entanglements and a singing decapitated head.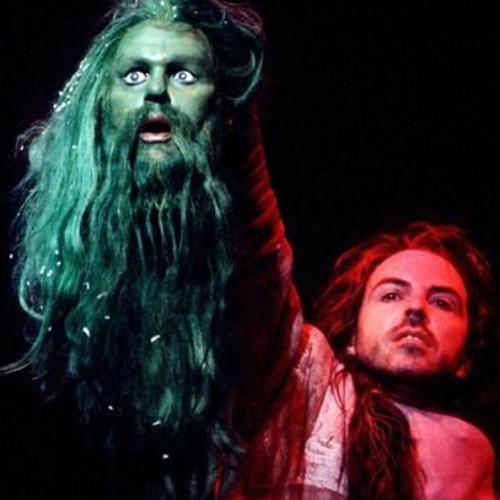 Since this live recording, Gawain has gone on to be performed on two other occasions. Once at the Barbican where Martyn Brabbins conducted the BBC Symphony Orchestra to mark Birtwistle's 80th birthday, and also at the Salzburg festival in 2013. Below we have a picture from the NMC archive of Birtwistle at the Salzburg Festival.
Staunchly non-conforming in both his music and his manner, Birtwistle once told a room of pop musicians at the Ivor Novello awards: "Why is your music so f****** loud?", while accepting his 2006 award. "You must all be brain dead. Maybe you are. I didn't know so many cliches existed until the last half-hour. Have fun. Goodbye." (The Guardian)
It's fair to say we miss his outspoken and unwavering nature.
Get 20% off every single Birtwistle release in our catalogue from the NMC Shop now!
NMC's Discover platform is created in partnership with  ISM Trust.