Imogen Holst: memories from Colin Matthews
12th April 2021
Features
NMC Recordings
To celebrate Imogen Holst's birthday and the 40th anniversary of The Holst Foundation, we've delved into the archive to share this reflection from NMC founder and Executive Producer, Colin Matthews. Original article published in September 2017
Imogen Holst – Imo to everyone – was inimitable. I met her for the first time in 1971, at a private showing of the television film of Britten's Owen Wingrave. Most of the audience was a little uncomfortable with what was perceived as a not wholly satisfactory experience ('o what a terrible medium' was Britten's private comment) but Imo listened only to the music, and danced with excitement. Watching this seemingly austere, thoughtful person positively explode with unbounded enthusiasm was something I would become very familiar with.
I saw her subsequently in Aldeburgh, when I was working for Britten, and about a year after our first meeting – early in 1972 – she invited me to Church Walk (her home in Aldeburgh, Suffolk) to ask if I would work on the Thematic Catalogue of her father's music, which she was preparing for publication in his centenary year of 1974. This was the beginning of a collaboration which was to last just over twelve years. We prepared new editions of Holst's music – including The Planets in 1979 – and four volumes of a critical facsimile edition between 1974 and 1983; we initiated recordings – notably the first (and still only) recording of At the Boar's Head; and, anticipating the end of Holst's copyright after 1984*, conceived the Holst Foundation as a charitable trust whose main aim would be the support of living composers.
Her devotion to Britten – so evident from her Aldeburgh diary – meant that for the first four years of our working together she was very concerned that this should not prevent me from being available at any time that Britten needed me. She was very scrupulous to avoid too much contact with Britten herself, not only for the reason – with her ability to compartmentalise her life – that she had decided that this was a time she would devote almost exclusively to her father, but also because, just as in the 1950s, she felt that his work was so important that she could not intrude. I only recall one occasion when I was alone with the two of them, at a meal in the Festival Club, where the atmosphere changed dramatically as they walked in. (I have a fond memory of a lunch with Imo in the Club, where she watched with fascination two elderly Aldeburgh residents carefully negotiating the single step in the middle of the restaurant: "I love coming here", she whispered, "it makes me feel so young!")
Imogen Holst, Colin Matthews, and Olly Knussen at Aldeburgh Festival in 1983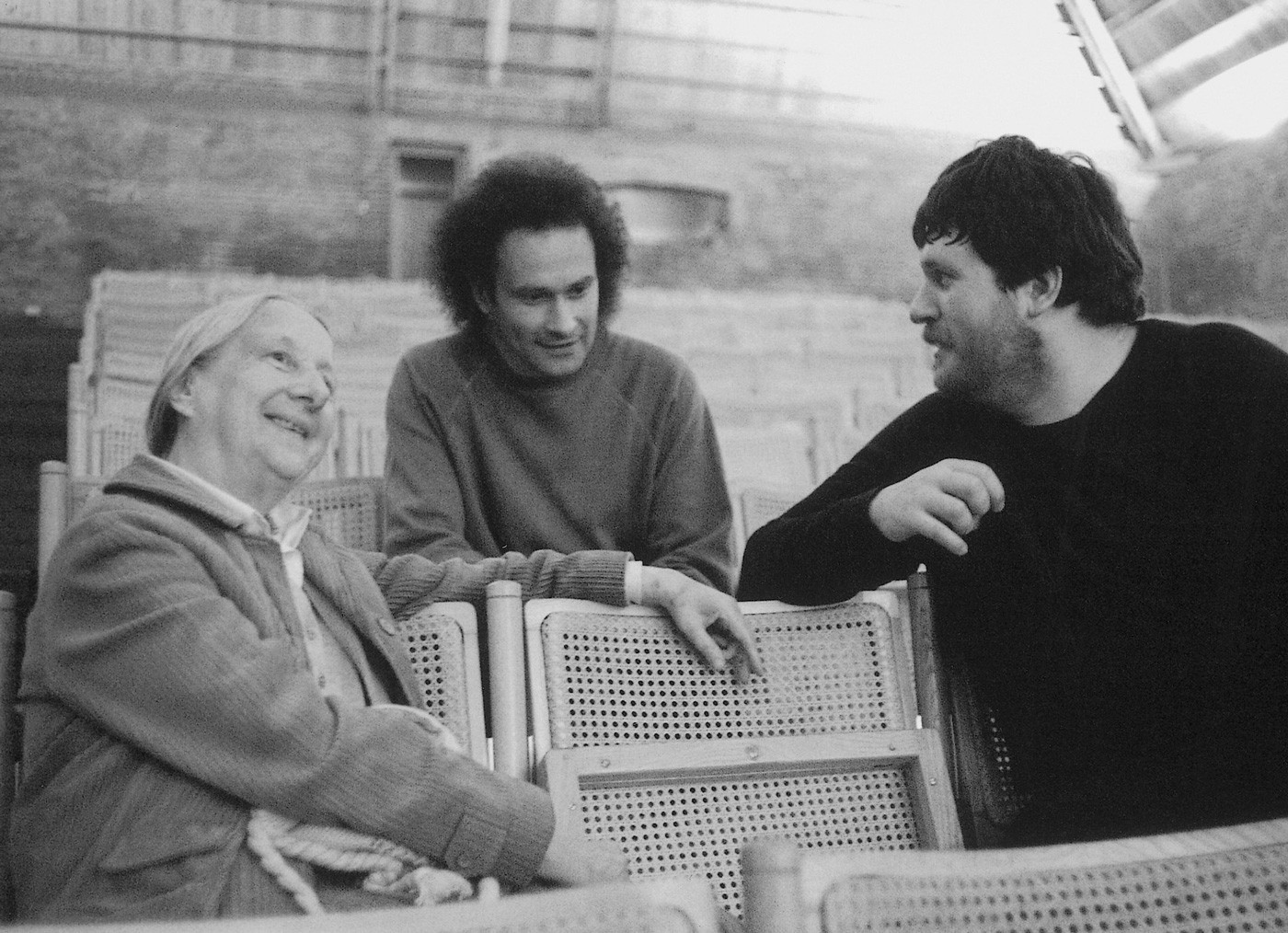 The double and triple underlings in her diary, together with the exclamation marks, give just a little indication of what her speaking voice was like. But she had two voices (and personalities to match): one for public occasions and broadcasts (link to her BBC Desert Island Discs interview below), almost excessively careful and precise – this went with the figure who would walk along Aldeburgh High Street with her eyes fixed on the far distance, anxious to avoid anyone who might distract her from more important things. In private she could be both voluble and uninhibited, intense yet relaxed, with a capacity for hoots of laughter when something pleased or amused her, which was very often. The switch from one to the other could be dramatic: when you phoned her, the frail voice saying 'Aldeburgh 2865' sounded like someone at death's door; the moment she knew who it was there would be the drop of an octave or more, and the most welcoming of greetings. I don't believe any recording of her father's voice survives, but I imagine that their manner was very similar.
And, like her father, she had many unexpected interests. After her death, I found that she had saved for me a book (all her library was marked with how it should be disposed) about particle physics which she had been recently reading, and had annotated throughout. She would not read things unless they could be useful to her – there wasn't enough time for that – but she retained a wonderfully open mind. Though her opinions were always strong ones, she was never inflexible and took a particular delight in being persuaded to change her mind. This was the case even where music was concerned, and she was always open to the new: I remember seeing her copy of the Proms Prospectus for 1972 where she had marked the concerts she was most interested in, with one marked as a 'must' – the performance of John Cage's HPSCHD at the Roundhouse.
Imo's musical tastes were very decided, and very much her own. She was notably a pioneer in the revival of 15th and 16th-century church music, and the programmes that she regularly devised for the Aldeburgh Festival broke much new ground. By the time I knew her this largely belonged to the past, both because she was taking more of a back seat as artistic director and because she felt that others were continuing the work she had begun. But she had other things to concentrate on: her father's approaching centenary made her conscious that she could do more on his behalf (in spite of having written two books, Gustav Holst in 1938 and The Music of Gustav Holst in 1951). This didn't imply a blinkered view of his music. Quite the opposite: her often disparaging remarks in The Music of Gustav Holst caused controversy, and went largely unretracted. She could never reconcile herself to the pervasive influence of Wagner on her father's early music. With some difficulty, I persuaded her to agree to a recording of the large-scale Walt Whitman setting, The Mystic Trumpeter, of 1904 (to my mind an early near-masterpiece) and she did grudgingly allow a few other early works to emerge from obscurity. (Even Holst had labelled some of these as 'Early Horrors'.)
The Amadeus Quartet rehearings Britten's String Quartet No.3 with Peter Pears, Colin Matthews, Imogen Holst and Donald Mitchell - 19 December 1976 (credit twitter @BrittenOfficial)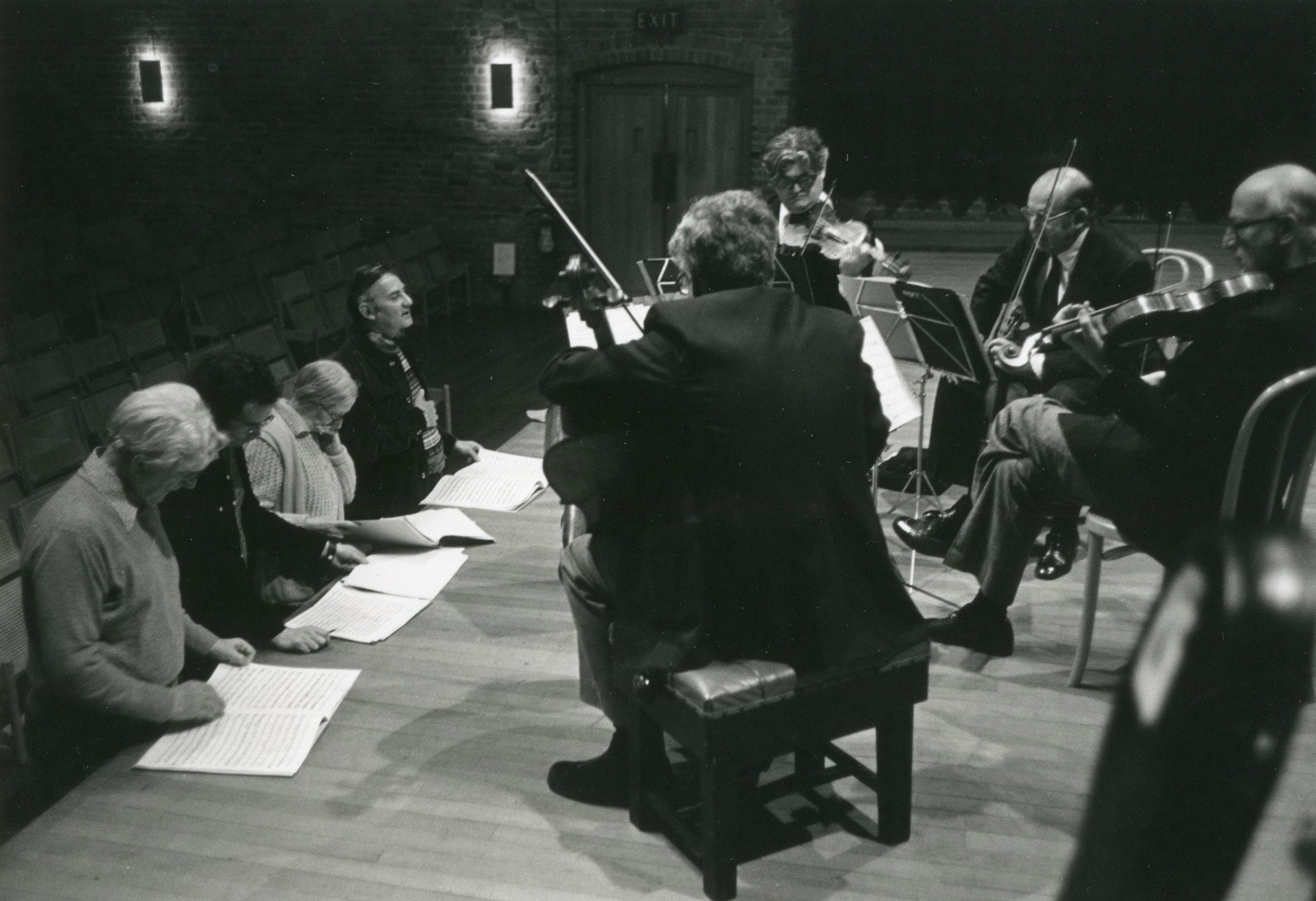 Her perception of the occasional weaknesses in Holst's music was, in many cases, accurate, although perhaps she overreacted because of her love for the late works, which she felt had been neglected. But nothing would have persuaded her to allow the disastrous Phantastes Suite of 1911 to see the light of day (apart from its slow movement, of which she was fond). And she made it quite clear that she did not want Holst's royalties (so much more substantial than they had been in his lifetime**) to be used to record The Perfect Fool. She felt that this opera was dramatically inept, and its revival would do her father's reputation no good.
Her trenchant criticisms were not restricted to her father, and she had scant regard for many English composers whose reputations have since flourished in the age of recording. As for her own music, she could be just as critical of that, and my queries about it were usually gently brushed aside. I was delighted that in the mid 1970s she began to think again about composing (although a glance at the published catalogue of her works will show that at no time, apart from the lead up to 1974, did she stop). I suggested to Faber Music that they publish her 1982 String Quintet in honour of her 75th birthday, and this brought her great pleasure ("I feel like a real composer", she said). There was quite a flowering of music in her last years, and after her death I partially completed a Recorder Concerto that she was writing for the 1984 Cricklade Festival.
At Britten's funeral, in 1976, I rounded a corner of Aldeburgh Church to find Imo bursting with excitement because the bell ringers had just executed a particularly felicitous change. It was not possible to be too mournful at her own funeral, because she would not have wanted it: and would have rejoiced both at the words (from her father's Hymn of Jesus) that Rosamund Strode chose for her headstone – 'Divine grace is dancing - all things join in the dance' – and at its proximity to Britten's headstone. She was more 'alive' than almost any person I have known, and she remains so.
Nearly 40 years after her death I still approach Imo's Church Walk house and expect to find her inside, making the strong coffee that she always served the moment I stepped in the door.
© Colin Matthews
NMC's Discover platform is created in partnership with ISM Trust.