Catalogue Corner No. 2 - Benjamin Britten: 'Unknown Britten'
6th June 2022
Features
NMC Recordings
It's time to announce a new entry into our recently launched Catalogue Corner! Here we take a look at the extensive NMC catalogue and pick out an album to shine new light on. Each month, you're able to buy the featured Catalogue Corner recording for a special discounted price so that you, our NMC community, can listen to this release anew.
After honouring Harrison Birtwistle in last month's Catalogue Corner, we're now moving onto another bastion of British composition, Benjamin Britten (1913-1976). This month's featured release is Unknown Britten (NMCD140).  Alongside a 20% discount for this release on the NMC shop, we're also offering a further discount on all of the Benjamin Britten releases in the NMC catalogue for you to enjoy.
Read on to discover more about the cunningly named Unknown Britten...
Whilst living composers make up the vast majority of the NMC Catalogue, we do have a fair share of historical composers that are represented. Often, composers (like many artists) don't get the recognition they deserve when they are practising. Instead, as their art outlives them, interest in their work and what inspired them can grow.
We caught up with NMC Executive Producer Colin Matthews to discuss the propensity for releasing historical composers like Britten on NMC: 
'Although NMC's principal focus is, of course, on living composers we've often ventured outside that, the most notable example being Tony Payne's reconstruction of Elgar's Third Symphony (NMC D053). Quite early on we released music by Bill Hopkins (NMC D014) and Elisabeth Lutyens (NMC D011, as well as D073 and D124) and a look through the list will show that we've released discs featuring, amongst others, Michael Tippett, Roberto Gerhard, Lennox Berkeley, Grace Williams and Imogen Holst - the criterion being music that hasn't been recorded elsewhere or recordings of special historical interest. Significant pieces in the latter category are Britten's very early recording with Peter Pears of Les Illuminations and the Michelangelo Sonnets, as well as the first performance of the Sinfonia da Requiem with the New York Philharmonic recorded back in 1941.'
Unknown Britten was released on NMC on 6 October 2009. The album features eight premieres recorded by the Royal Northern Sinfonia conducted by its Music Director, Thomas Zehetmair. Largely made up of unfinished Britten works, this album includes some sketches from when the composer was as young as 16.
A Young Britten in Lowestoft
Featured works on the album include a stunning performance of Les Illuminations by world-renowned soprano Sandrine Piau, Britten's Clarinet Concerto brought to life by Colin Matthews, performed by Michael Collins, and In memoriam Dennis Brain for 4 horns, strings and tubular bells which commemorates the great horn player who died in a car crash in 1957.
Fun Fact: Sandrine Piau's appearance on this disc was specially granted by French label Naïve who kindly released Sandrine from her exclusive recording contract with them to allow her to record with NMC. 
Recommended Track: Three Songs for Les Illuminations (No. 3. A une raison)
Hear more from Colin Matthews on how he helped bring the album to life:
My own longstanding connections with Britten facilitated several recordings of his work, with Unknown Britten perhaps being the most important. The recording of  Les Illuminations on this disc includes three songs that Britten decided to omit from the final version, which I scored from the sketches. There are a couple of early (unfinished, but stylistically radical) pieces written when Britten was only 16 and a late piano piece, intended for the Leeds Competition. And most importantly for me, the realisation of Britten's  Clarinet Concerto commissioned by Benny Goodman in 1941, of which only the first movement was completed in sketch.
It was this work that started the whole project off. Our long time trustee Bayan Northcott, knowing that I'd orchestrated this single movement back in 1990, suggested that I might find a way of adding to it to make a complete work. This I eventually did by using two contemporary pieces, the Mazurka elegiaca for two pianos and the surviving fragments of a projected Sonata for Orchestra, to become the second and third movements. Michael Collins, who had given the first performance of the first movement, gave the first performance of this 'completion' in the Sage, Gateshead, in 2008. Hearing all these pieces come to life during the 2009 recordings in the Sage with the Northern Sinfonia and Thomas Zehetmair was an unforgettable experience. Britten was an extraordinarily prolific composer, and the music that he left unfinished as he rushed on to the next piece lacks nothing of the quality of his major works.
We've unearthed this Unknown Britten Audioguide below from the NMC Archive. Listen out for some energetic excerpts from the album, interesting commentary and a lesser-known anecdote about Britten's first sketch of his Clarinet Concerto.
Behind every great album is a great album cover, and the tale behind Unknown Britten is truly fascinating.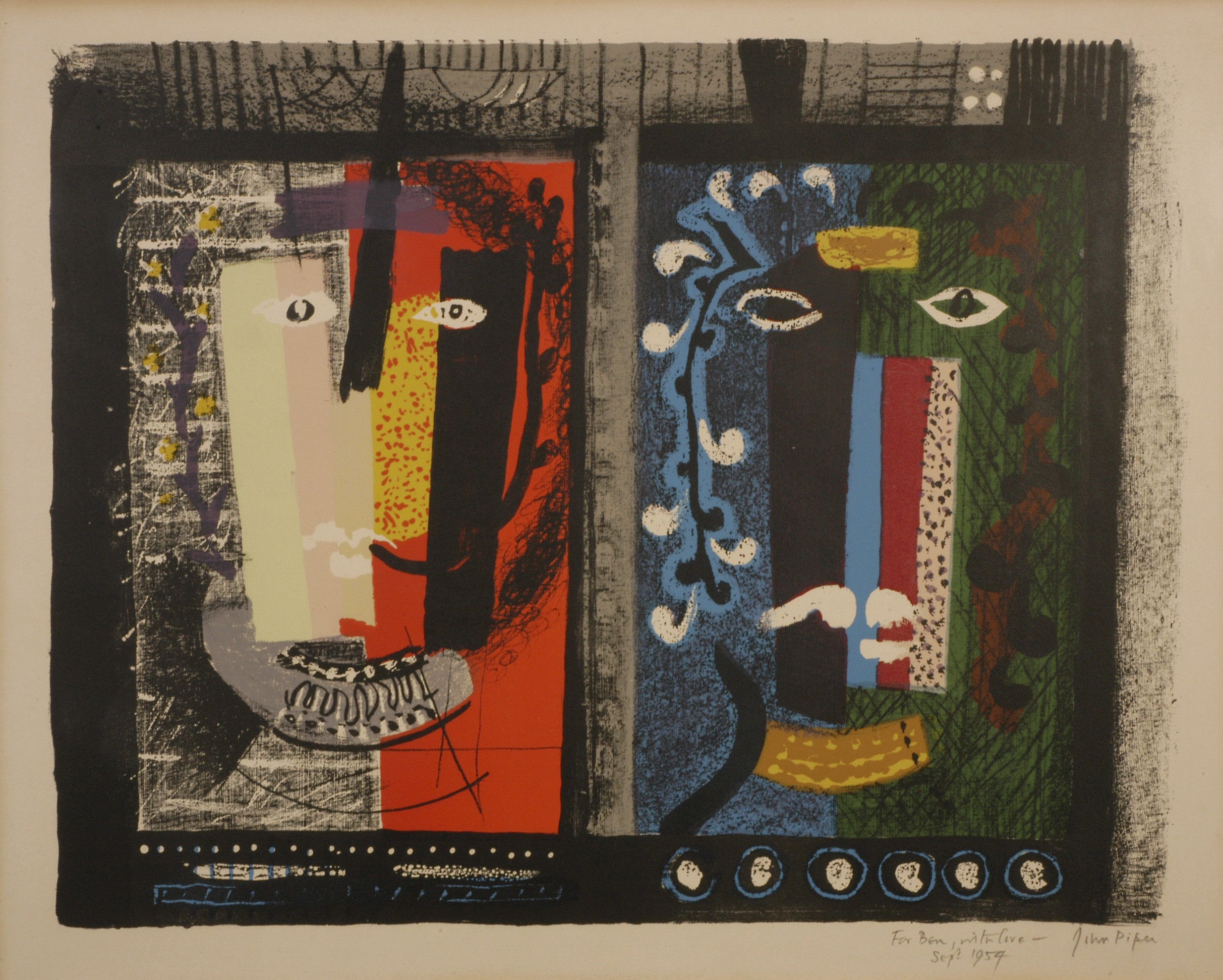 The art aficionados amongst you may recognise this portrait as the hand of British artist John Piper. The more eagle-eyed of you may even notice some handwriting in the bottom right-hand corner of the canvas. Using our NMC microscope we have deciphered it to read 'for Ben, with love - John Piper, Sept 1954'. This kind of personal message is not surprising when you discover that Britten had connections not just with John Piper, but also his wife, the art critic and librettist Myfanwy... 
The Pipers were dear friends and professional collaborators of Britten. It was Myfanwy Piper who suggested Britten write an opera based on Henry James's The Turn of the Screw, which had its premiere at La Fenice, Venice, in 1954 as part of the Venice Biennale, with set designs by her husband John. Later on, Britten asked Myfanwy to write the libretto for his future operas Owen Wingrave (1970) and his final opera Death in Venice (1973)
Many of John Piper's works (62 in total) remain under the ownership of Britten-Pears Arts including the cover art for Unknown Britten (Foliate Heads II)
Upon it's release in 2008, Unknown Britten was critically acclaimed across the board by a plethora of distinguished commentators. We've collated a few of them below:
"Buy this for Les Illuminations, but savour it for so many new discoveries." - Andrew McGregor, BBC Radio 3 Record Review
"This is one of the most important Britten recordings in many a year" - Gramophone Magazine
"Britten completed but didn't orchestrate the songs - 'Phrase', 'Aube' and 'À une raison'; Matthews matches them finely to the style of Illuminations" - BBC Music Magazine
We're delighted that NMC can play a small part in preserving this wonderful composer's legacy. Get 20% off every single Britten release in our catalogue from the NMC Shop now!
NMC's Discover platform is created in partnership with ISM Trust.