Intervened Memory 2
6th October 2022
Features
Birmingham Record Company
'Intervened Memory' by Jimena Maldonado is a large scale piece for viola da gamba and electronics based on Mexican artist Cristian Pineda's 'Yo soy mi casa' [I am my house], a series of ten photographs that have been digitally overlaid with drawings. These poignant images were taken in Juchitán, Oaxaca after catastrophic earthquakes in September 2017. Pineda's digital interventions 'repopulate' the images with graffiti-like doodles whose fantastical iconography – strange beasts, abundant plant life, disembodied eyes and limbs – recalls traditional Zapotec art. Here, Maldonado shares some of the images, and explains how she interpreted them to create her work, 'Intervened Memory' (due for release 28 October on Birmingham Record Company)
Track 1: Home / Hogar
This piece is inspired by the idea of memories. In this case, the memory of something that is no longer there. The wall shown on the image was all that if was left of the house. The electronics use the material played by the gamba in the form of loops. These loops, which are triggered by the gamba throughout the piece, represent the fragments of memories. The piece begins at the bottom of the image, with long, low notes and no electronics. The closer we get to the house in the centre of the image, the more the electronics layer emerges, and the more complex the loops become.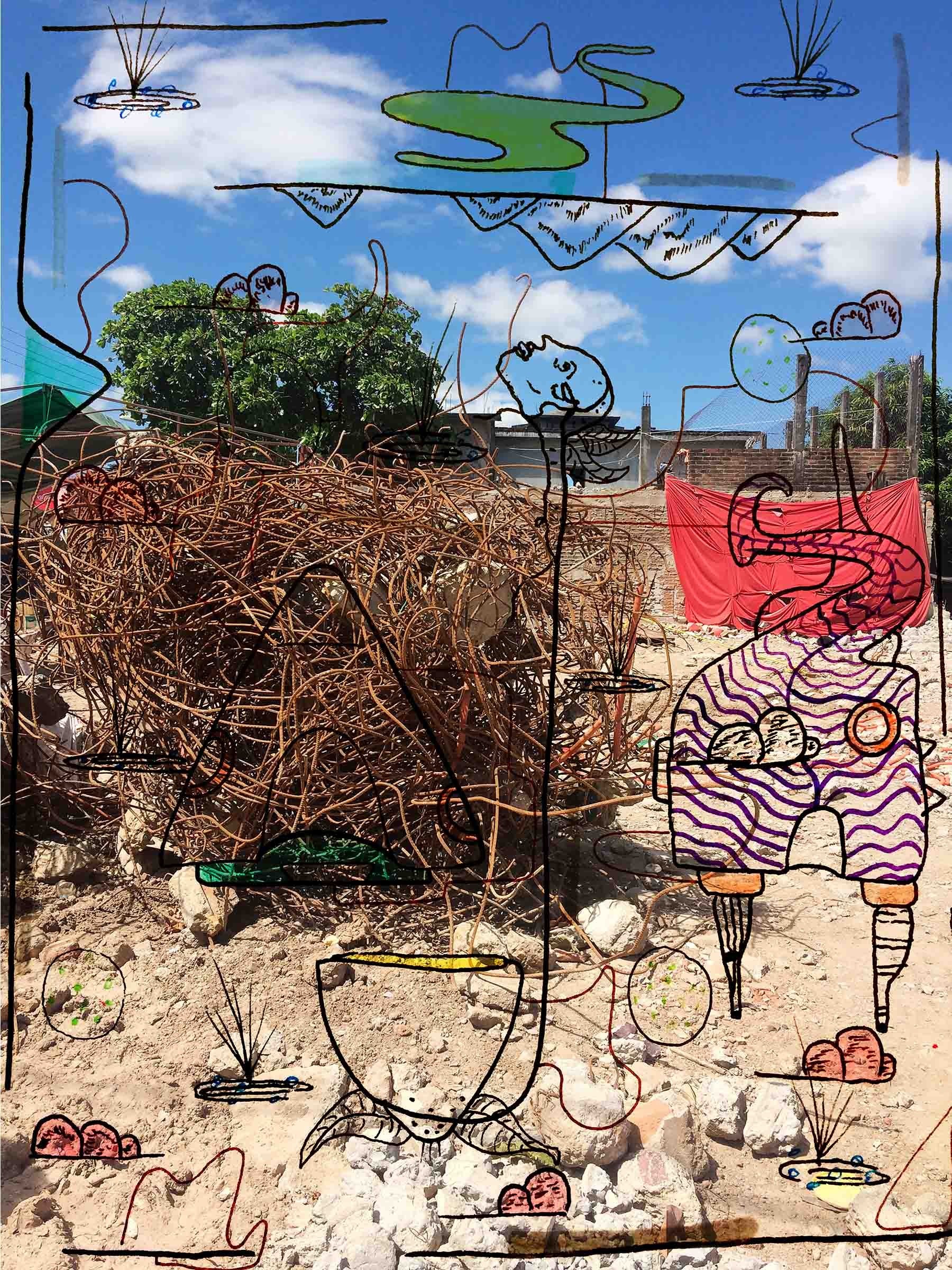 Track 5: Remnants / Restos
The photograph shows an area where materias from demolished houses were left. The main idea of this piece is contrast. Contrast between the sky, the metal and the soil. The electronics create harmonisations of the gamba material, creating parallel lines using different intervals. The result is an idea of an augmented instrument, in which certain parameters of the the gamba performance influence the homophonic expansions of the electronics material.
Track 6: Life / Vida
The photograph was taken as debris was being removed from the house, mainly from the ceiling that collapsed onto a bed. This piece was inspired by the contrast between the colourfulness of the image with the destruction within it. There is confusion and destruction, but there is also hope for reconstruction and new beginnings. The electronics part plays with the idea of repetition of phrases and canons, at times creating complex textures with a lot of internal movement formed from chords repetition.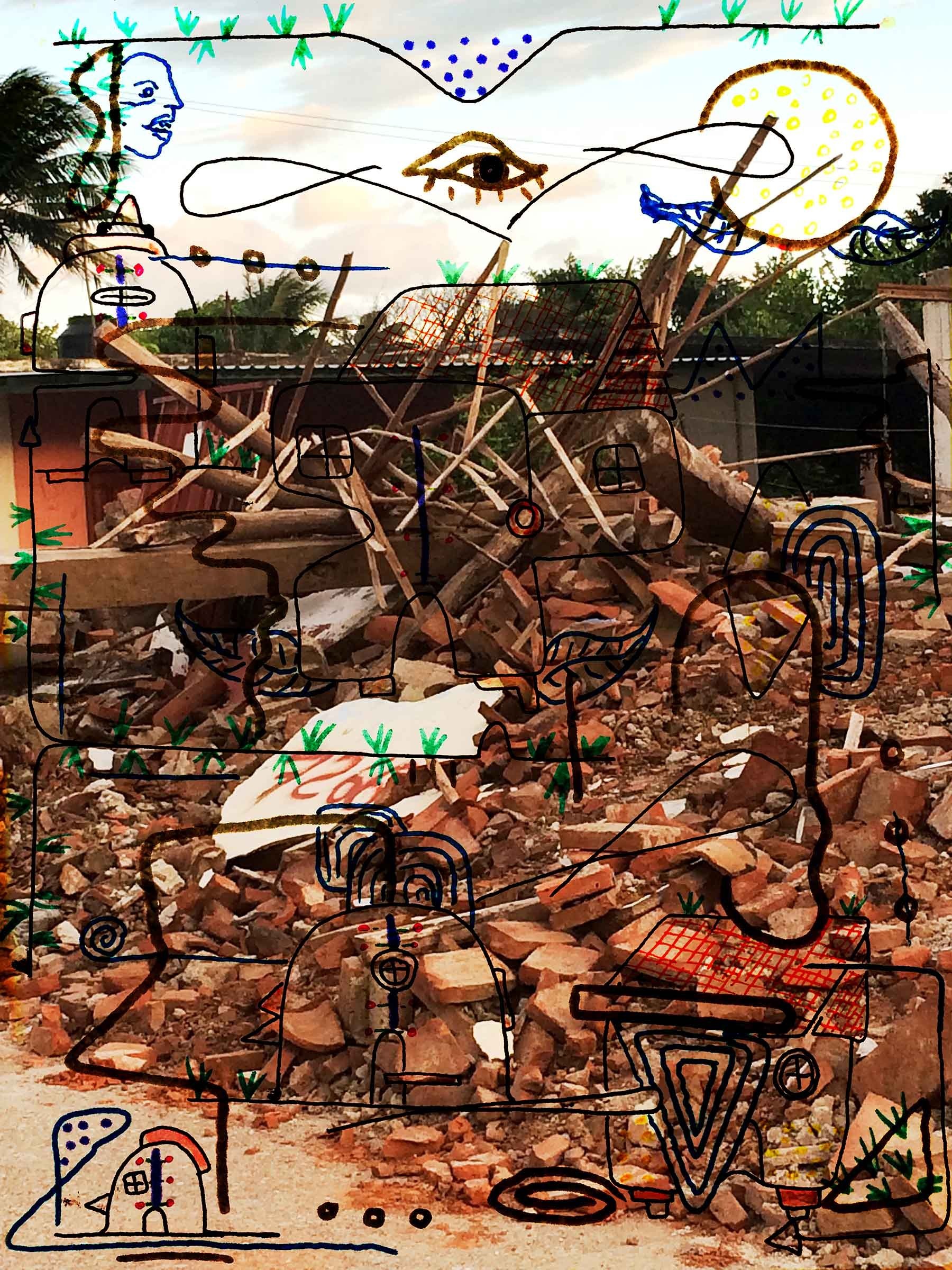 Track 9: Remembrance / Remembranza
This piece starts with an acoustic, natural sound, full of rhythm and lightheartedness. The electronics create an artificial environment with field recordings of celebrations and town fairs in Juchitán, combined with interviews with people made after the earthquakes. This sound world slowly self-destructs, becoming more and more artificial, irregular and disconnected. The piece ends with the voice of a man referring to the sadness he feels when remembering the moments when the earthquake struck, and how that moment changed the lives of everyone in Juchitán.
Intervened memory is out on 28 October on Birmingham Record Company
Find out more about Jimena Maldonado's unique work combining photography and composition here
NMC's Discover platform is created in partnership with ISM Trust.