Catalogue Corner No. 3 - Kate Whitley: I Am I Say
6th July 2022
Features
NMC Recordings
It's that time again to announce an entry into our Catalogue Corner. Here we take a look at the extensive NMC catalogue and pick out an album to shine new light on. Each month, you're able to buy the featured Catalogue Corner recording for a special discounted price so that you, our NMC community, can listen to this release anew. After previously featuring two bastions of 20th century composition in Harrison Birtwistle and Benjamin Britten, this month we're turning our attention to the new, vibrant and neoteric. 
This month's focus is I Am I Say (NMCD229) by Kate Whitley featuring the Multi-Story Orchestra. This release is part of our major series on NMC, Debut Discs. Alongside a 20% discount for this release on the NMC shop, we're also offering a further discount on all of the Debut Discs in the NMC catalogue for you to enjoy.
Read on to discover more about the cryptically named I Am I Say...
Released in 2017, I am I Say features one of the largest lineups on any NMC album, and that is in part thanks to the many South London school children that sing on the title track. The children even had a hand in songwriting and contributed their own words to the final verse of the song. 
The children were asked to imagine what they might say if they themselves were the sky - what damage humans might be causing to them and how they might be if left alone. This is what they came up with:
I am the sky, and I have something to say
I don't want smoke in my eyes
I don't want holes in my skin
Let my stars shine at night
Let me see the sun and moon.
Children of Kender, John Donne and Lyndhurst Primary Schools
As well as writing for the large forces of the Multi-Story Orchestra and three childrens choirs, Kate Whitley also displays her aptitude for smaller soloistic writing in her Viola Concerto, 3 pieces for Violin and Piano and 5 Piano Pieces. Rolf Hind, Eloisa-Fleur Thom and Shiry Rashkovsky all sparkle as instrumental soloists of Whitley's demanding compositions.
Eloisa-Fleur Thom and Kate Whitley rehearsing
Upon it's release the composer, writer and educator Kerry Andrew said of Kate Whitley and I Am I Say -
"This is music that keeps you on your toes; there is a lovely dynamism between the violin and piano in her tightly-condensed three pieces, moving between knotty, intertwined dialogue, little periods of reflection and an ear-shreddingly high moment. It's a real tussle. Kate is a dynamic, indefatigable musician and part of a generation with a cheerful Do It Yourself approach."
This debut portrait album showcases Whitley as a lush harmonist, an orchestrator who handles instruments boldly and a melodist who isn't afraid of big rhapsodic elegies. The performances are direct and excellent
Kate Molleson
- The Guardian
We've found a great video from the Borletti-Buitoni Trust who helped fund the album documenting the behind the scenes work that went into the recordings. Watch below:
This is music that keeps you on your toes
As one of NMC's Debut Discs I Am I say was Whitley's first ever professionally recorded project. 
NMC's Debut Discs are musical calling cards, crucial for talented composers in the early stages of their careers since they enable promoters, commissioners and audiences to hear their work.
Launched in 2012, the series currently features 20 albums; many have achieved exceptional reviews and awards from media worldwide. This exposure has provided a variety of opportunities for the composers involved, including commissions, performances and residencies for the likes of Linda Buckley, Helen Grime and Mark Simpson to mention but a few.
NMC's Discover platform is created in partnership with ISM Trust.
Related Music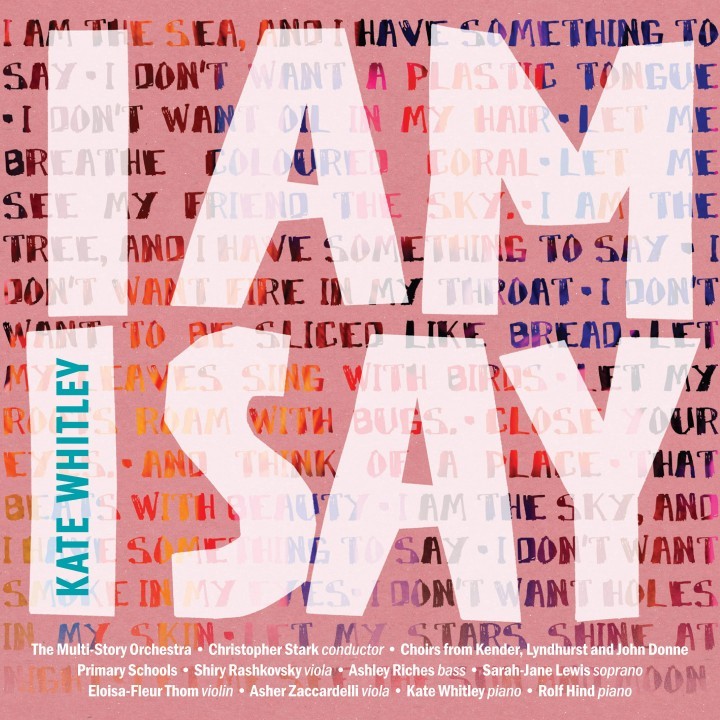 Kate Whitley: I am I say
NMC Recordings
BUY