Inside Shiva Feshareki's Turning World
16th May 2022
Articles
NMC Recordings
In her new album Turning World, Shiva Feshareki uses the turntables to ply and wield a multitude of strands together, combining her own composition with that of pioneering electronic musician Daphne Oram in a collaboration that interconnects different moments of time and history. Keep reading for an exploration of the themes, technologies and processes behind the album, in Shiva's own words.
Aetherworld is a piece for Immersive Electronics/Turntables, Choir and Organ. Aether was the fifth element in alchemical chemistry and early physics. It was the name given to the material that was believed to fill the universe beyond the terrestrial sphere. The belief in aether as an element was held by medieval alchemists, Greeks, Buddhists, Hindus, the Japanese, and the Tibetan Bon. The concept of aether was used in several theories to explain several natural phenomena, such as the traveling of light and gravity.
Aetherworld exists to connect us physically and spiritually in time and space, allowing our minds to expand in any direction or dimension, within a shared moment. The piece focuses on the natural harmonics of the voice, with the choir material based mainly on harmonic overtones. This is found in ancient music traditions from many different parts of the world, most prominently in the East. Overtone singing reveals the structure of a sound, revealing the infinite harmonics nestled within a single fundamental pitch, and so by doing this connects us to a whole host of other phenomena of creation in our natural universe, which are built and structured in exactly the same way.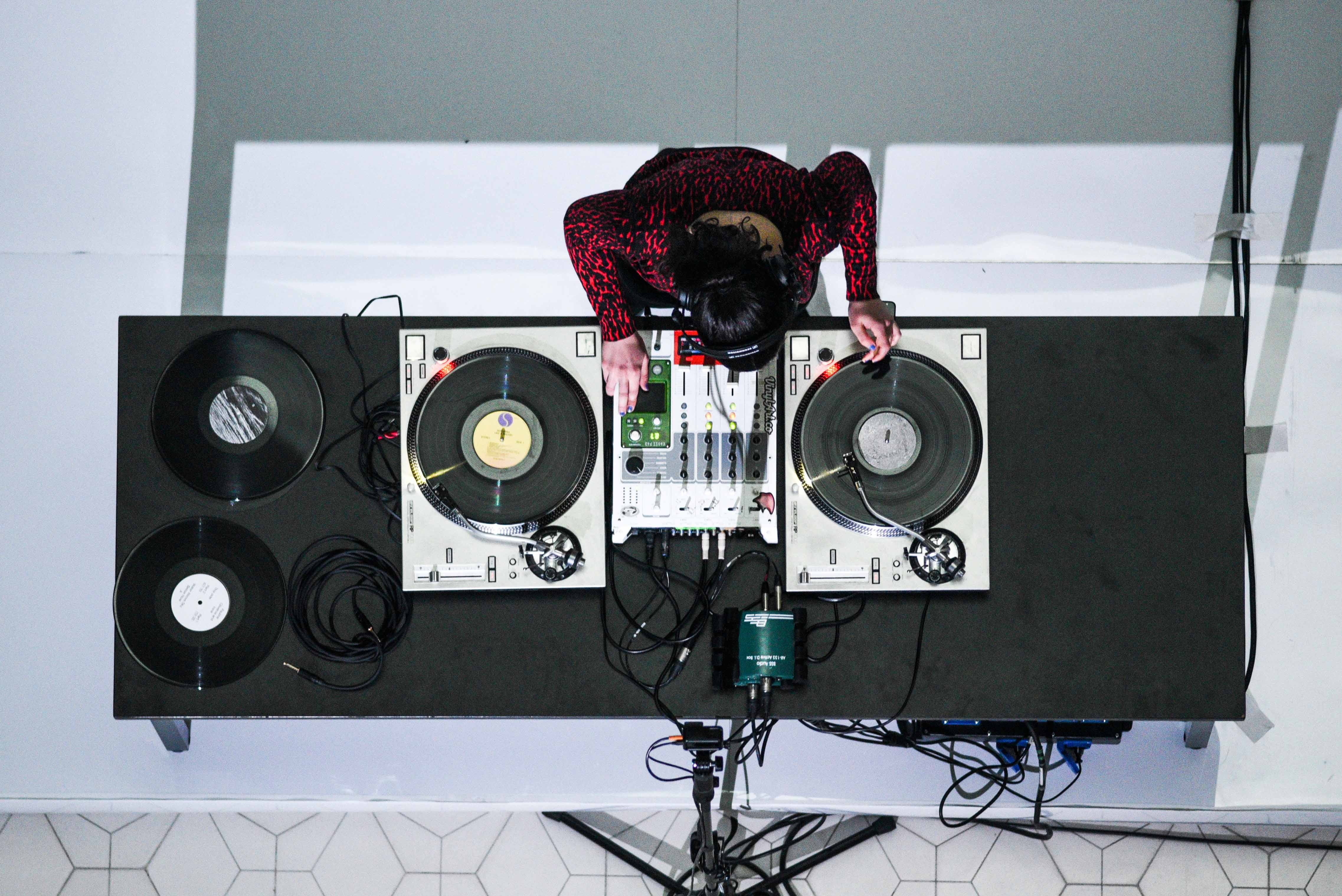 Both the choir material and the electronic material manifest live in-themoment and so Aetherworld is never the same twice, continuously evolving in time, space and place. I create the immersive spatial electronics using turntables and other technologies that I subvert from their conventional use, and repurpose for my own creative intentions. I use nothing other than a recording of Josquin's Qui Habitat which I manipulate into new forms, live in improvisation. This will include varying the speed and direction of the spinning discs. These sonic transformations are live-sampled immediately, creating new perspectives on the piece's original form. The technology I use spans new to old, including vinyl, turntables and CDJs, all processed through vintage analogue tape echo (Re-201), live ambisonics, and a cutting-edge interactive software designed by creative-technologist Andy Sheen, who designed the software based on my idea to transform the circular motions of the spinning discs, into circular motions of sound within space.
Aetherworld exists to connect us physically and spiritually in time and space, allowing our minds to expand in any direction or dimension, within a shared moment
Still Point is a piece for double orchestra, 5 microphones and 3 X 78 RPM discs. In 1948, whilst working as a radio programme engineer at the BBC, Daphne Oram began composing a new and highly innovative piece for double orchestra, entitled Still Point. Oram was only 23 years old when she wrote Still Point, and the piece reflects her earlier experiences working up under the glass dome of the Royal Albert Hall as bombs rained down over London. As a programme engineer during World War Two, she was tasked with both balancing the radio broadcast of live concerts in the hall (including the BBC Proms season), whilst also keeping 78rpm disc recordings cued up ready for broadcast if the hall was evacuated: the music would carry on regardless!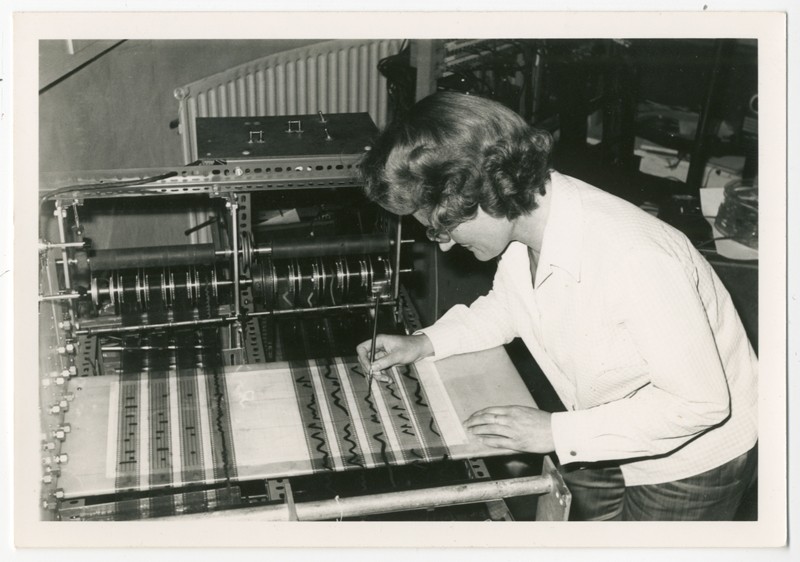 These early experiences using turntables and mixing sound in the complex acoustics of the Royal Albert Hall inspired Oram to explore the spatial and acoustic aspects of orchestral composition by harnessing the newfound potential for live manipulation of amplified sound in performance. The final score for Still Point, scored in April 1950, details "pre-recordings to be mixed in at varying speeds, backwards & with filterings plus reverberation" and was submitted to the BBC as a potential entry for the inaugural Prix Italia in 1950, only to be turned down on the basis that the adjudicators wouldn't understand the "acoustic variants and prerecording techniques" utilised.
In retrospect Still Point can be seen as decades ahead with its explorations of space, time and acoustic architecture
Still Point is thought to be the earliest example of a composition specifying real-time electronic transformation of instrumental sounds, and in retrospect can be seen as decades ahead with its explorations of space, time and acoustic architecture. In the work, the double orchestra is 'acoustically treated,' creating one 'dry' orchestra (using acoustic baffles) and one 'wet' orchestra, which are then manipulated live in performance through turntables, amplification and echo effects. Still Point was to be the last piece that Oram wrote for orchestra before she co-founded the BBC Radiophonic Workshop in 1958, laying the roots for the new fields of British electronic music that were to come.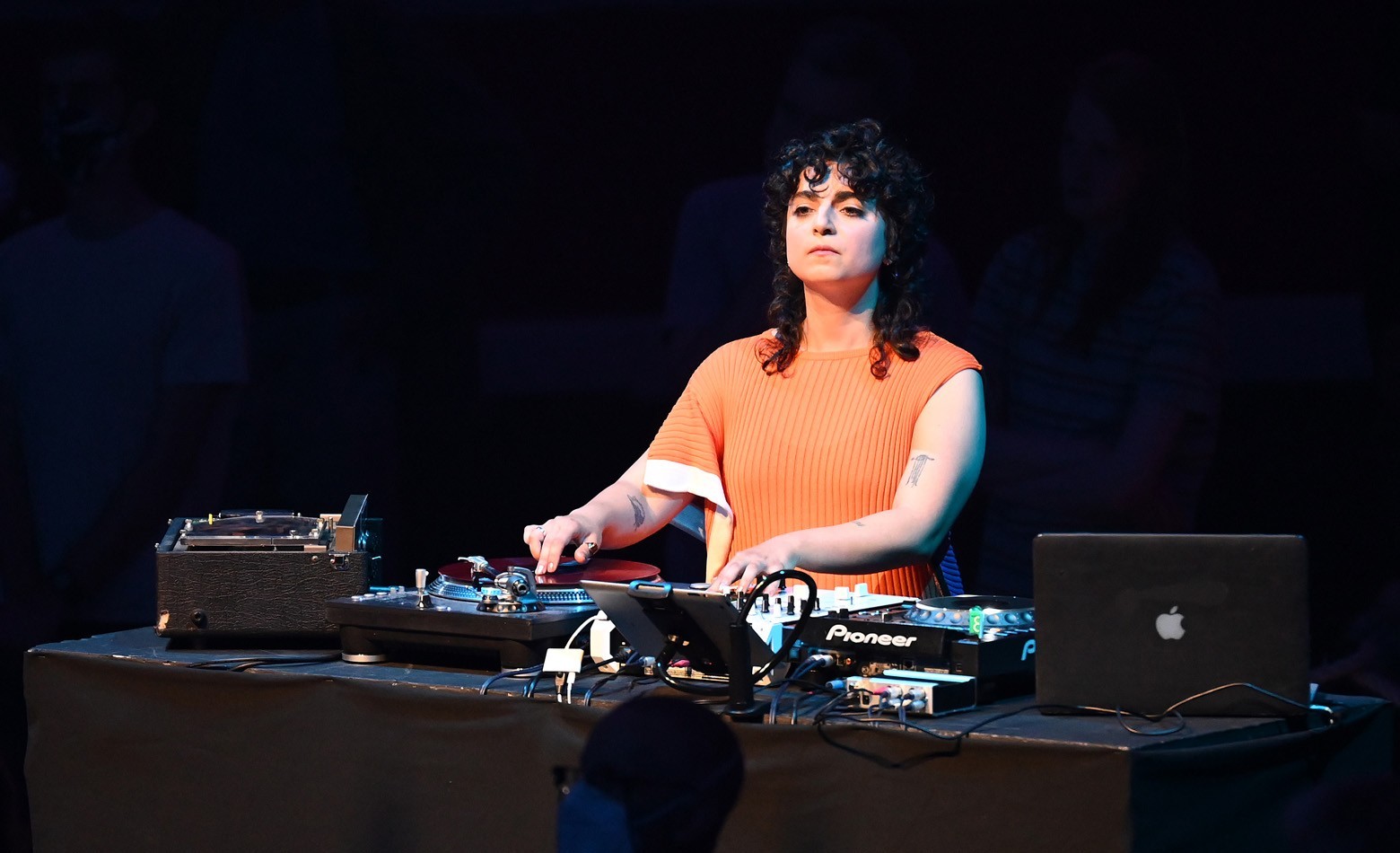 Over a four year period, myself and fellow composer James Bulley extensively researched within the Daphne Oram Collection and related archives across Britain, in order to realise the world premiere performance of Oram's final score for Still Point. Previously thought lost for over twenty years, Bulley discovered the score in December 2016 amongst the papers of composer Hugh Davies. The 2018 BBC Proms premiere of Still Point followed Oram's exact specification, with the turntable discs having been recorded in Maida Vale's renowned Studio 1 using a historically accurate live lathe-cutting technique to create the discs (engineered by Aleks Kolkowski). I composed the turntable part for Still Point using Oram's detailed handwritten instructions found in the archive. At the 2018 BBC Proms performance, to be released on NMC in 2022, I developed these ideas incorporating my own techniques and understanding of Oram's musical aesthetic.
NMC's Discover platform is created in partnership with  ISM Trust.