In March 2019, NMC worked with Chineke! Foundation and Tower Hamlets Arts and Music Education Service to devise and deliver 3 days of creative music-making workshops for 40 pupils aged 11-14 from Swanlea School in Whitechapel.  
The project was linked to Spark Catchers, an album of works by Black and Minority Ethnic composers performed by Chineke! Orchestra, released in January 2020 on NMC. We were thrilled to have composer Errollyn Wallen lead the project along with five musicians from the orchestra.    
Teaching composition in the classroom can be quite tricky. The exposure this week to new techniques has allowed me to feel that it's a safe area to teach … there's no right or wrong … and there's a whole grey area that we just need to explore with the children.
Swanlea School Head of Music 
The participants were introduced to the working life of an orchestra by Chineke! Learning Manager Ishani O'Connor, as well as learning about what it is like to be a professional musician and what being a composer means. 
Across the three days, participants were split in to five groups and each led by a musician mentor, to work together to create a new piece of music based on the theme of 'belonging'. Errollyn worked with each group in turn to guide them through translating their ideas and thoughts in to music, helping them devise strategies to encourage inspiration and use their instruments to their full potential - including unusual techniques which they hadn't yet explored.  
At the end of the project, all the groups performed their pieces in a concert to an enthusiastic audience of fellow students and parents.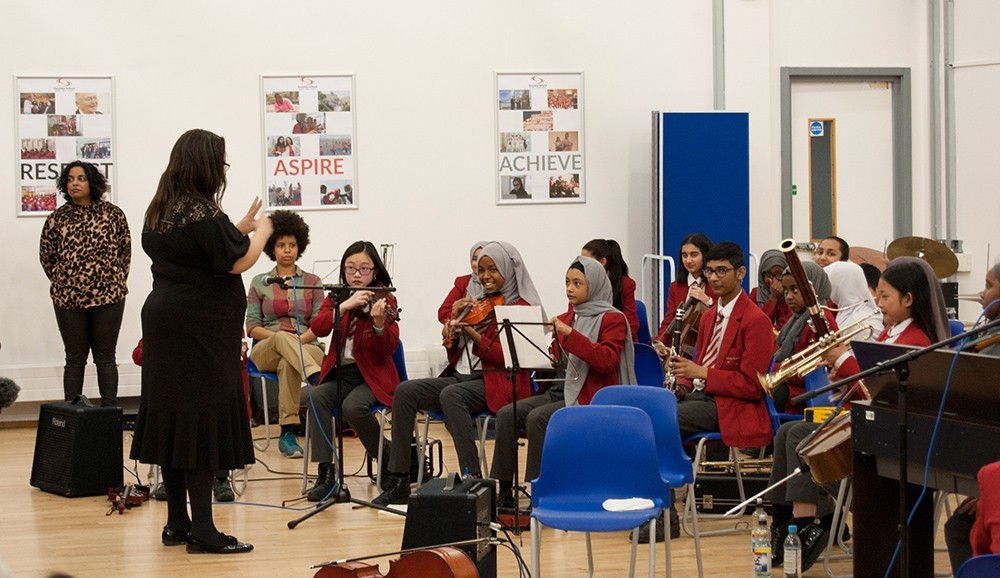 Student testimonials
"My favourite part was when everyone was gathering together to put all their pieces together. It made a really shocking and wonderful performance, [it was] very creative for all of us." 
"The best thing about being a composer is that you get to use your creativity, use what you imagine and make a wonderful piece with it." 
"The best thing I've learned so far is using pizzicato with the cello. Before, I just used to think it was a weird thing that I used to do, and now I know that it's actual music."  
"I will definitely carry on [playing music] in my future because I never knew I could play an instrument other than the piano or the violin. The cello is very big and strong and powerful and I can get everything out with the cello."