During September-November 2015 we commissioned Aurora to run composition projects for secondary school students and seven pop-up workshops for primary school students, working with a total of 245 young people, 17 teachers, and 12 composers, musicians and workshop leaders. In addition, 60 students and 35 parents attended the concert at the Science Museum, and a further 90 students the school concert.
This was NMC's first involvement in learning activity with under-18s. We are very grateful to the Ernest Cook Trust for its generous support of these projects.
We were first struck by the location – we weren't going to see a concert by an orchestra in a concert hall? – and then, when we got there, by the fact that we didn't have chairs to sit on! Instead, we were led around the museum to see music performed in front of the very exhibitions that inspired the music we were listening to. Another thing we noticed was that the instrumentalists didn't always sit next to each other. Sometimes, they were spread out over a large area and couldn't even see each other as they were hidden behind cabinets! It meant we listened to the music in different ways, with our attention moving between places and players.
Student, Lister Community School
Secondary School Composition Projects
The Objects at an Exhibition project provided a wonderfully creative visual and aural world for students to explore. Led by composer Jessie Maryon Davies and movement director-choreographer Polly Bennett, students from years 8 and 9 at Lister School worked with composer Claudia Molitor and Aurora musicians to devise their own promenade performance, inspired by the repertoire and approach of the Objects at an Exhibition performances at the Science Museum.
On Monday 28 September, the students, parents and teachers attended the dress rehearsal for the Objects at an Exhibition premiere at the Science Museum. Walking the galleries and hearing the music played live by Aurora Orchestra prompted fascinating responses, and it challenged the students' understanding of what an orchestral concert looks like, feels like and sounds like. It was incredibly well received and feedback from the teachers was excellent.
Following the students' visit, composer Jessie Maryon Davies, movement director Polly Bennett and four players from Aurora Orchestra, worked in the school for four weeks - devising with the students their very own Objects at an Exhibition performance which was put together in a concert for family and friends. Time was spent thinking about objects and spaces in their own school setting – debating what particularly stood out and the students' feelings and reactions.
I am more confident and passionate towards music and my violin playing by taking part in such a big performance with Aurora Orchestra.
Student, Lister Community School
The 'Objects at an Exhibition' project was a great success at Lister. From having the opportunity to experience the technical rehearsal after hours at the Science Museum, to playing alongside Aurora musicians and from the creative sessions led by Jessie Maryon Davies to the resulting concert here at Lister, the students involved were fully engaged from start to finish.
Sarah Hendy, Head of Music, Lister Community School
Primary School Pop-Up Workshops
Over the course of 2.5 days in November 2015, Aurora's Workshop Leader in Residence Jessie Maryon Davies, and percussionists Sam Wilson and Craig Apps collaborated with the Science Museum's Director of Learning Kenny Webster, to deliver seven cross-curricular science and music workshops to 205 children from four primary schools. Over the course of each 1.5hr workshop, children were taken on a bespoke tour of the Flight Gallery with Science Museum Educators to explore the exhibits, the history and stories within them. Following this, the children worked with Jessie and Sam to use the information gathered to inspire the text and melodic ideas for the creation of a new song. All songs were recorded and distributed to schools.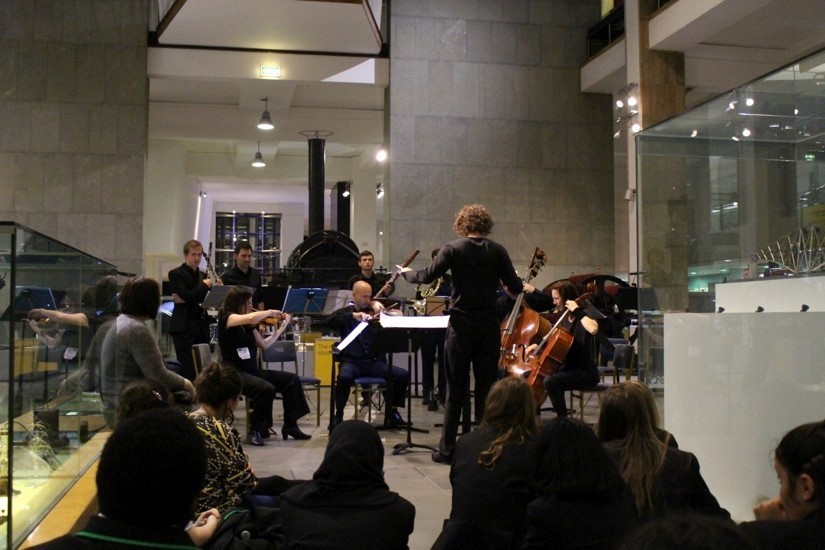 The pop up primary school devising workshops were a unique and brilliant opportunity for the children to explore their creativity, linking music, science and words in a very imaginative way. Every child was engaged throughout the workshop, and the activities were pitched very well for the group, while also allowing individual ideas to be developed. The stories explored from the Science Museum galleries connected the session together very well and inspired the children's imagination.
Joca Dalledone, St. John XXIII Catholic Primary School